Save the Last Dance, A Story of North American Grassland Grouse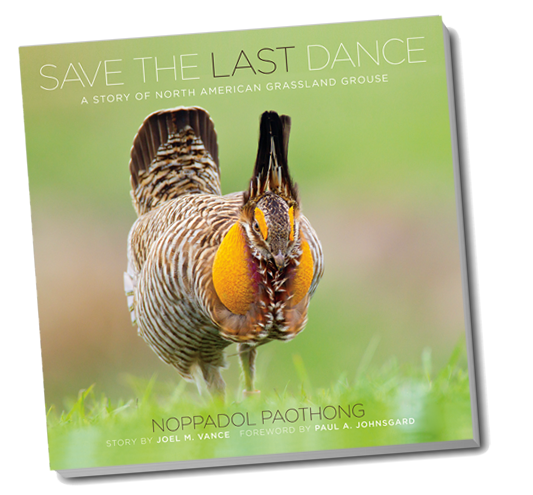 A new book by award-winning photographer Noppadol Paothong and writer Joel M. Vance strives to rescue grassland grouse from the brink of extinction by showing the world what it stands to lose if these species are allowed to disappear forever.
The 204-page hardbound book, Save the Last Dance, a Story of North American Grassland Grouse, captures the dazzling beauty of seven grouse species whose populations are diminishing across the prairies and plains of America – and one species that has already lost its battle for survival.
The book lavishly captures the dance and displays of the grassland grouse in more than 200 photographs. Paothong has spent the past decade chronicling the species' stunning mating rituals as the birds vie with development for space to breed and raise their young.
Fortunately, many conservation groups have championed the cause of grassland grouse. But will it be too little, too late? The birds can be saved if enough people care. Save the Last Dance, a Story of North American Grassland Grouse fosters knowledge and understanding of these spectacular birds and their diminishing habitats so future generations, too, can marvel at their grace and beauty.
In addition to rave reviews by experts and readers, the "Save the Last Dance" is the winner of "Gold Medal" in the 2013 Independent Publisher Book Awards in the Mid-West — Best Regional Non-Fiction category.
Don't miss an opportunity to order one of the best nature books and help save these magnificent species – parts of our national heritage, before it's too late.
A portion of your order will be donated to the organization of your choice.
The mission of the
Missouri Prairie Foundation
is to protect and restore prairie and other native grassland communities through acquisition, management, education, and research. Founded in 1966, the Missouri Prairie Foundation and its members have protected more than 3,000 acres to provide habitat for all native grassland species.
Sisk-a-dee
was founded in 2000 to promote the implementation of the Gunnison Sage-Grouse Conservation Plan within the Gunnison Basin, Colorado.
The
Sutton Avian Research Center
(Sutton Center) was founded in 1983 with the mission of finding cooperative conservation solutions for birds and the natural world through science and education. The Sutton Center is a private, non-profit organization located near Barlesville, Oklahoma.
The
North American Grouse Partnership (NAGP)
works to bring the plight of declining grouse species and their habitats to the attention of the public, provides oversight for the health of grouse populations, implements solutions to the problems causing grouse declines and encourages public policies and management decisions that will enhance important habitats and grouse populations.
Option 1. Pay online by credit card/debit card.
Option 2. Send a check.
Send your check to the address below (Amount: $45 + $4 for shipping)
Noppadol Paothong Photpgraphy
P.O.Box 7801
Columbia, MO 65203